Note: Since re-opening due to COVID-19, some items may not be available. Please call us at (613)722-4011 if you have any questions
Let Parma Ravioli assist you with every aspect of your menu. Give us the opportunity to take care of you right to the very last bite.
Parma Ravioli is more than just a pasta house when it comes to catering. As our many options will illustrate, it encompasses everything that we offer in house as well as much, much more.
For those planning a romantic dinner, an elegant party with friends or even a corporate event, we can offer you remarkable choices well suited for you and your guests, which will surely leave a lasting impression.
*For answers to questions about Parma Ravioli Catering, please contact or visit us today.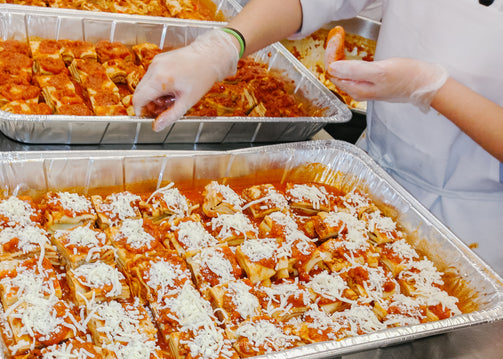 Lasagna
Half pan: 6-9 servings
Full pan: 12-15 servings
Meat
Meatball
Mixed Seafood
Northern Style Vegetable
Vegetable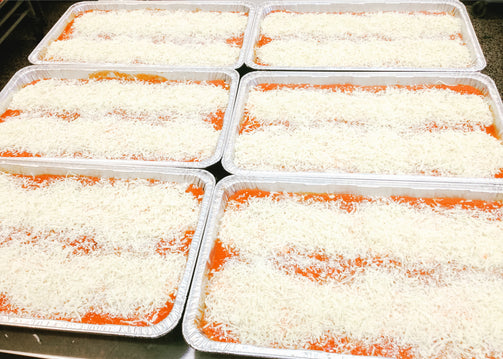 Manicotti/Cannelloni
Half pan: 14 pieces
Full pan: 28 pieces
Butternut Squash and Ricotta
Chicken and Chives
Mixed Vegetables
Spinach and Ricotta
Veal and Beef
Specialty Dishes
Please be advised that pan size will usually depend on the number of guests being served
Veal
Veal Marsala, Parmigiana, Pizziola, Scalloppine and Veal Stew
Chicken
Chicken Breast Cacciatore, Florentine, Marsala, Parmigiana and Pizziola
Chicken Teriyaki
Grilled Chicken Brochettes
Stuffed Chicken Breast
Fish
Cod, Haddock, Salmon, Shrimp and Sole
Specialty Items
Beef Bourguignon
Beef Stroganoff
Chili con carne
Eggplant Parmigiana
Foccaccia Pizza (with toppings of your choice)
Gnocchi
Grilled Spicy Italian Sausage
Risotto
Roast Pork Loin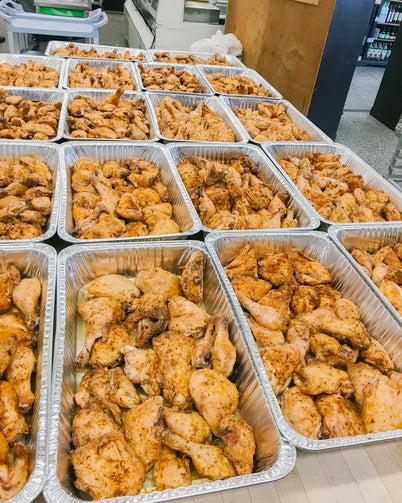 Antipasto and Salads
An inspired salad can put family and guests in just the right mood for enjoying the rest of the meal! Below are some of the variety of salads available at Parma Ravioli:
Antipasto Platter
Caesar
Garden
Greek
Potato salad
Spinach
Three Bean
Waldorf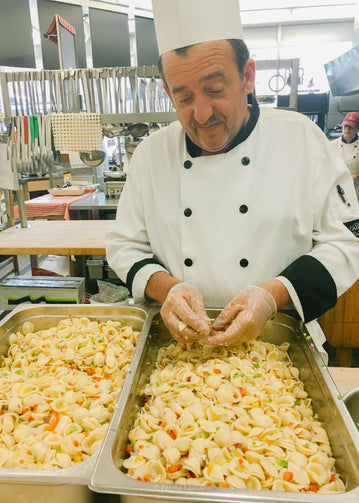 Pasta Salads
- Cheese tortellini with pesto and sundried tomato
- Chicken Cappelletti with artichoke, roasted red pepper and chopped vegetables
- Greek style with four-cheese tortellini
- Penne with julienne vegetables
- Penne and capicollo
*A variety of other pasta salads are also available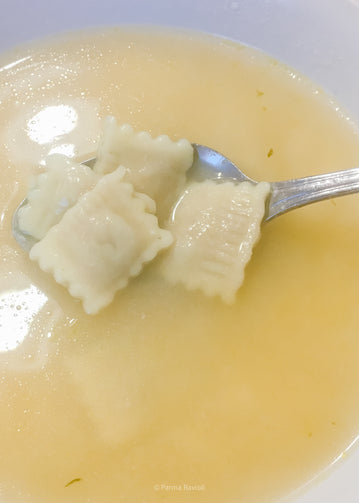 Soup
Time to soup up your meal. Parma Ravioli offers a variety of broth and vegetable base soups, chowders and creamy soups. Here are just a few of the ones you could find in store:
- Cream of Potato and Leek
- Spicy Sausage & Mixed Vegetable
- Chicken Corn Chowder
- French Onion
- Beef & Barley
- Cream of Roasted Cauliflower
- Italian Stracciatella
- Tortellini Pasta in Broth
- Genovese Style Vegetable & Bean
- Italian Wedding Bell
- Chef's Creation
Desserts
In addition to an assortment of fresh desserts delivered daily we offer the following list of desserts that can complement any meal.
Speciality
Tiramisù
Cannoli (available with chocolate chips)
Baked Pies 
Apple
Blueberry
Caramelized Apple
Cherry
Peach
Pecan
Pumpkin (seasonal)
Raspberry
Strawberry Rhubarb