Fresh Pasta Tips​
- Always refrigerate fresh pasta. Preservatives are NOT used to prolong shelf life.
- The moist nature of fresh pasta may create condensation in a sealed plastic bag. Avoid this by leaving the bag slightly open.
- Fresh pasta may be frozen, however ensure to separate filled pasta (ravioli, agnolotti, etc.) and freeze pieces individually, then re-bag and keep frozen.
- Frozen fresh pasta should NOT be thawed prior to cooking. Simply place frozen pasta into boiling water.
How to Cook Fresh Pasta
- Always use a large pot with plenty of water when cooking fresh pasta. Water will be absorbed and also evaporates.
- Wait until the water is at a roiling boil before before adding the pasta.
- Salt may be added to the water to bring out the flavour of the pasta. A dash of oil may be added to help prevent fresh pasta from sticking together.
- Stir to keep the pasta from sticking.Once the pasta is placed in the boiling water. Place the lid back on the pot to help bring the water back to a boil. This is essential, because if you do not, the past will be sitting in hot water, resulting in mushy pasta.
- Once the water is boiling again, remove the lid for the remaining cook time - this is always dependent on a wide variety of factors (size, type, thickness of pasta, fresh/frozen, personal preference, etc.). Determining whether your pasta is ready is an ongoing taste-testing process. Once ready, drain the pasta into a colander. 
- Toss the pasta in a warmed pan with your prepared sauce, to marry the flavours together.
Fresh Pasta
*Please keep in mind cooking time is dependent on a variety of factors, thus subject to variability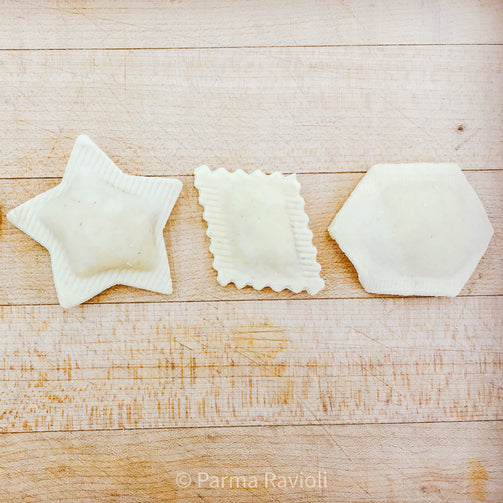 *Thin* Stuffed Fresh Pasta
Recommended cooking time:4-5 minutes
Stuffed Fresh Pasta​
Recommended cooking time: 8-12 minutes
*Agnolotti: 7-12 minutes
*Jumbo Ravioli: 12-14 minutes
*Tortellini: 12-14 minutes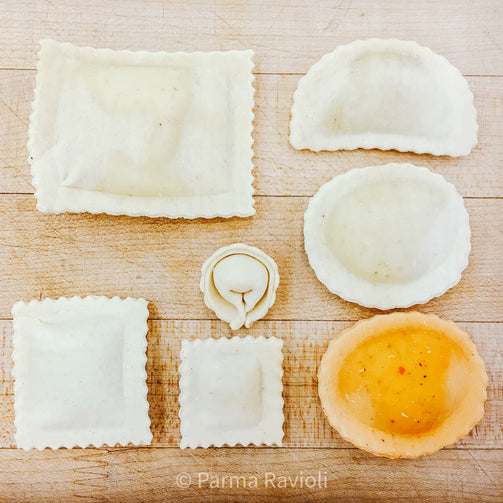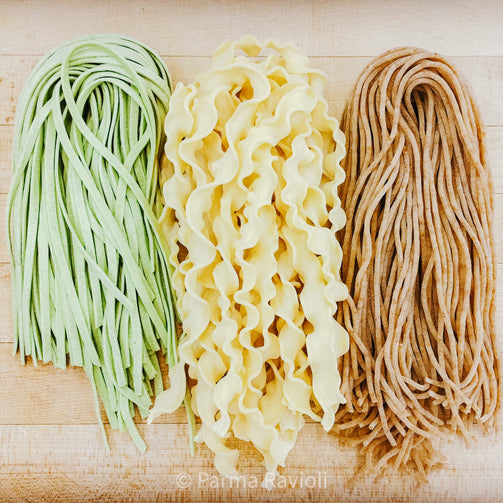 *Long* Fresh Pasta
Recommended cooking time: 5-6 minutes
*Angel Hair: 3-4 minutes
*Spaghettini: 3-4 minutes 
*Cardelini: 3-4 minutes
*Thin Fettuccine: 3-4 minutes
*Short* Fresh Pasta​
Recommended cooking time: 8-10 minutes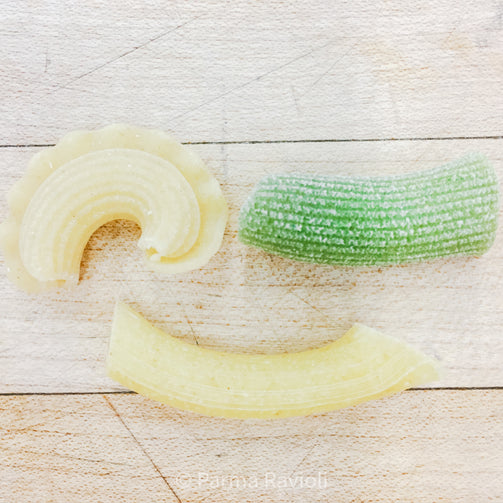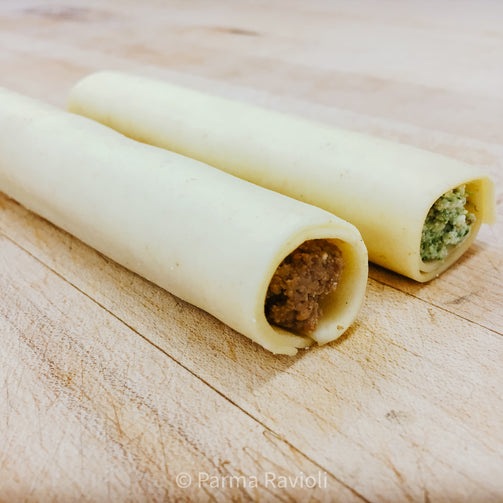 Hand-Rolled Fresh Pasta​
Recommended cooking time:
Bake in oven for 45-50 minutes
1. Place sauce on the bottom of a casserole dish
2. Place pasta on top of sauceCover pasta with sauce (to keep pasta moist while cooking)
3. Sprinkle mozzarella cheese on top (optional)
4. Cover casserole dish with aluminum foil
5. Bake at 375 degrees (F) for 45-50 minutes
6. To brown the cheese, remove aluminium foil for an additional 10-15 minutes
Half Pan & Full Pan​
Recommended cooking time:
Bake in oven for 45-50 minutes
1. Place oven rack on centre tier
2. Pre-heat oven to 375 degrees (F)
3. Heat product to approximately 45-50 minutes with cover on
4. Remove cover and heat for an additional 10-15 minutes
5. Remove product from oven, and let it sit for approximately 5 minutes prior to serving